Tributes to PnB Rock have poured in from across the Hip Hop community in the wake of his tragic death.
The Philadelphia rapper — best known for hits like "Fleek," "Selfish" and "Everyday We Lit" — was fatally shot during a robbery at the Roscoe's House of Chicken & Waffles in Inglewood, California on Monday afternoon (September 12), according to the Los Angeles Times. He was 30 years old.
According to Los Angeles Police Department Captain Kelly Muniz, Rock (real name Rakim Allen) was at the restaurant with his girlfriend when at least one suspect approached the couple and demanded jewellery.
After a verbal exchange, the suspect shot the rapper multiple times and fled in a getaway car. Rock was transported to a local hospital but ultimately succumbed to his injuries and was pronounced dead at 1:59 p.m. local time.
Police have yet to identify the shooter, although they're hoping security video from inside the restaurant will aid their investigation.
As news of his untimely death spread, many of PnB Rock's rap peers took to social media to mourn his passing, including Drake, Nicki Minaj, Cardi B, 21 Savage, Meek Mill and more.
Drizzy — whose 2011 Take Care album inspired Rock to start rapping — posted a photo of them partying together on his Instagram Stories, while Nicki described her "Fendi" collaborator as a "pleasure to work with."
However, the Queen rapper also questioned Rock's girlfriend's decision to share a location-tagged photo of their lunch date on her Instagram Stories.
"After Pop Smoke, there's no way we as rappers or our loved ones are still posting locations to our whereabouts. To show waffles & some fried chicken????!" she wrote. "He was such a pleasure to work with. Condolences to his mom & family. This makes me feel so sick. Jesus. #SIP #PnbRock."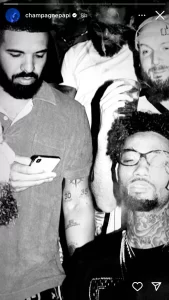 Cardi, meanwhile, defended Rock's girlfriend from the criticism while sending her condolences to the rapper's loved ones.
"I highly doubt nikkas was looking at PMB's baby mom IG," she tweeted. "He was in a bad location and people stay outside plotting. It's very irresponsible and inconsiderate to blame her for something so tragic. We should be sending nothing but love to her and his family at this time."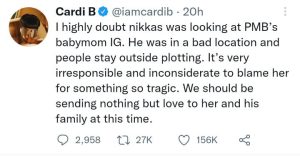 offset, Quavo, YG, Kodak Black, Tee Grizzley, 2 Chainz, G Herbo, Fabolous and Pusha T were among those who also mourned PnB Rock's passing on social media.
His death adds to an alarming trend of violence against rappers in Los Angeles following the deaths of Nipsey Hussle, Pop Smoke and Drakeo The Ruler. Just last month, Quando Rondo was the target of a shooting in L.A. that claimed the life of his friend, Lul Pab.
In a clip from a recent interview with DJ Akademiks making the rounds online, PnB Rock spoke about being confronted by L.A. gangsters while shopping on Fairfax with his girlfriend and daughter.
"Where I'm from, we, like, sneaky criminals; in L.A., it's like they're bold," he said. "I ain't go in the store for two seconds, [these] people hop in the store, hype as shit. He started talking to me on some gangsta shit. I'm like, 'Bro, do you know me from somewhere?'
"I flagged him off and I just walked out the store 'cause I already know where this shit 'bout to go … When [my girlfriend and daughter] got to the car, that's when I let n-gas know like, I'm not on that. I ain't gon' say what happened, but n-gas know that I'm just not on that."
Source: HIP-HOP DX