Marquise Jackson the estranged son of multiple award-winning American rapper and business mogul, 50 CENT has taken his Instagram page to explain how the monthly $6,700 payments from his father weren't enough to thrive in New York City. Now, he's willing to give back a monthly stipend to spend some time with his pops.
Jackson was willing to pay the same amount his father use to give to him as monthly upkeep just to have 24hrs of his father's time since it had been a long they spend time together as Father and Son.
He Wrote
"Since y'all think $6,700 is sooo much money someone tell my pops I will pay him $6,700 for just 24hr of his time so we can do everything I ever wanted to do with him as a kid," he wrote in a plea to Instagram. "Red Yellow Green whatever color he like."
The attempt to get his 50's attention also featured possibly some of that $6,700 a month used to hilariously spell out "Entitled" as he trolled the critics.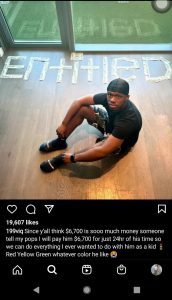 50 has no relationship with his eldest son, who is now 25 years old. He claimed his child support payments were finally finished up in 2017 for Marquise, and 50 celebrated the moment on social media in trolling fashion.
"It is sad, it's a sad situation," 50 said in a separate interview about his relationship with Marquise. "When you pray for success, you don't necessarily pray for the things that come with it. It's no such thing as success without jealousy, without envy or entitlement … His mom developed an entitlement that cannot be met, filtering that energy through his actual personal interests."
Marquise hopped on Instagram Live with Choke No Joke last week where he explained the $80,000 a year wasn't enough to thrive in NYC.
"$6700 a month in the state of New York City? You do the math," Marquise told Choke, who said he's familiar with the numbers as he went to jail over child support payments himself. "You're talking about a Forbes lister, you're talking about someone that has problems with everybody, you can't just live in any neighbourhood.
"$81,000 is not a substantial amount of money. You can't just live anywhere. You talking about you got beef with everybody in the industry, you can't just live anywhere."