Disney's live-action remake of the 1992 animated movie Aladdin was released in 2019 with the same title. It is no surprise that Aladdin was a big success in 2019. The movie was directed by Guy Ritchie and quickly became a hit after its release. The movie wasn't exactly a dupe of the original 1992 movie, but its main plot remained the same. Now, Disney has officially confirmed Aladdin 2, the sequel of the movie back in February 2020. Director Guy Ritchie will take his position and will direct the movie.
This newest Disney sequel is being overseen by Ritchie who is currently working on his next movie, Cash Truck. The director is expected to start on this blockbuster after completing his work on Jason Statham's latest movie. Dan Lin and Jonathan Eirich are also back on board to produce.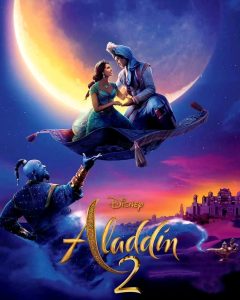 Aladdin 2 filming will take longer than expected. Although it seems the progress on the project is now moving along swiftly. In February 2020, Disney appointed writers John Gatins and Andrea Berloff for the script of Aladdin 2. The expected release date of the movie is in May 2025 which is almost 6 years from the first movie.
Aladdin 2 will not be an adaptation of the animated Aladdin sequel, "The Return of Jafar." This will be a whole new story. Reportedly, the producers were considering adapting more ideas from the Middle Eastern folk tale collection One Thousand and One Nights. Aside from Aladdin's original tale, "Aladdin's Magic Lamp," the collection includes stories like "Ali Baba and the Forty Thieves" and "The Seven Voyages of Sinbad the Sailor." It is not known which of these stories will be featured in Aladdin 2.
As for the cast of Aladdin 2, it is confirmed that Mena Massoud will return with his role as Aladdin, it would be unimaginable to have a sequel without Aladdin himself, and he's already eager to get started. Will Smith and Naomi Scott will also return with their respective role as Jeanie and Princess Jasmine. The writers have confirmed that the movie will not be a sequel to The Return Of Jafar so it is possible that we might not see Marwan Kenzari who played Jafar in the movie.