Ghanaian Dancehall king and a close friend of Hajia 4real, Shatta wale, has confirmed what we all heard as a rumour to be accurate: Hajia Mona's arrest in the UK.
On the 12th of November 2022, around 12:19 am, a piece of alarming news broke on Twitter about the booming sensational singer of her being arrested in The United Kingdom when he was returning to Ghana after a successful show at the Ghana Music Awards UK.
The "On God" hitmaker took to his verified Instagram page to wish his godMother well.
"I am not shy calling you my mom
I am not ashamed even if they call you names
But I know people make mistakes and God forgives them
The God I worship never disappoints.
Just be calm and this shall pass ..Keep that bright smile cuz I can see a light at the end of the tunnel 💎 #STAYSTRONGMONA 💚 @hajia4reall 😢😢
I am here praying for you 🙏💚❤️💚❤️🥲🥲🥲
The SM BOSS for the past few years has kept a very decent relationship with the socialite now musician, Hajia 4real which can be described as a genuine one.
Per the information, the socialite-turned-musician was arrested on Friday, November 11, 2022, by the Uk security agency.
The reports say Mona was picked up during her runs at a mall in the United Kingdom to assist in an investigation of over USD 8Million in fraud.
Details of the report said Hajia4real was apprehended based on her alleged connection regarding $ 8 million fraud during her stay in the United States.
The socialite, according to Ghanaweb.com, has already been banned from visiting the US over the same issue.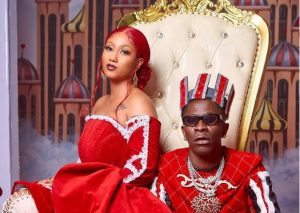 The arrest, per reports, was a joint operation between US security and the Uk.
Hajia 4 Real has been in the Uk in recent times during the Ghana Music Awards in Uk which happened on October 31, 2022.
Prior to this, Rumours of one Mona being banned from visiting the USA emerged.
Mona Gucci was named as the culprit but she came out to say she's not the Mona in question
According to Mona Gucci, it was Mona Faiz also called, Mona4real or Hajia4Real. Gucci claimed Hajia and her ex-husband were arrested and banned from visiting the USA for fraud.