Rolex Vision Records Signee, Tiini is set to outdoors his first-ever EP "I Have Arrived" with a concert this year on the 10th of December 2022.
Tiini, real name Frank Soku, is a Ghanaian Hiplife artist, whose productions are usually a fusion of other genres with AfroBeats. He gained the attention of Ghanaians and won the hearts of many after his hit production " Akye" Prod. by Each Soundboy and 202o Election which was also produced by Murder Beatz.
Early Life.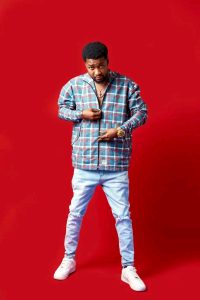 Tiini grew up in kwahu obomeng Eastern region of Ghana where he developed his love for music as a rapper, growing up in an environment where the youth are deeply into music but somehow find it difficult to let it out because they won't get anyone to support them.
In an interrogation with djashmen.com, He said, he fell in love with music when he was in JHS, Teshie at the age of 15 years  and also got inspired by the cheers and motivations from his friends anytime they hear him rap.
I started my music career journey at School JHS ,and I choose it as profile because the spirit came in itself and the kind if comment's and motivation I get when I release song was massive so I decided not disappoint the fans. He said
Music Career
In 2012 Tiini started to make the transition from rapping to adding singing to the already-packaged brand and eventually became a performing artist.  His first major single lit up his career and was  "Yaa Mansah" prod by. Jah Pinto which was widely received by many music lovers followed by "AKYE" prod. by Each Soundboy and the 2022 Election prod. by Murder Beatz, the very song that made him known by some industry players. "Thank God, Sleep(p3 baabi da), and Control". In all, Tiini has 20 tracks including the above-mentioned to prove his ability in the music space.
About The EP
The Akye hitmaker is yet to release his first EP studio project "I HAVE ARRIVED" on the 10th of December 2022 which will be complete with a concert in his home town Kwahu Ob meng in the Eastern Region of Ghana to show how far he has come and also give it back to his fans.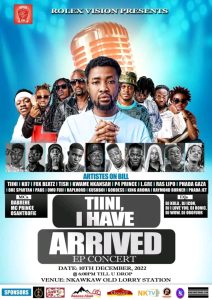 Artists billed on board to perform are listed below.
KO7, FOX BEATZ, TISH, KWAME NKANSAH, P4 PRINCE, L. GRE, RAS LIP, PHADA GAZA, DRE SPARTAN, PABS, OMO FUJI, RAPLHORD, KUSHBOI, GOODESS, KING AROMA, RAYMOND BURNER, PHADA JET.
The must-hyped EP has only Ghanaian twi pop rapper, Dr Cryme and Raymond Burna featured on one of the 5 tracks that's ready to be released.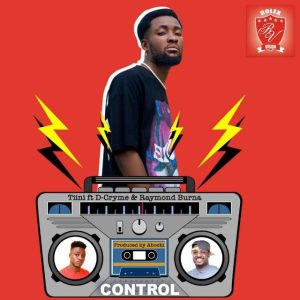 1. Control ft Dr Cryme X Raymond Burna prod. by. Abochi
2. Sleep (P3 baabi da) prod.by.Qhola Beatz
3. Kwahu Easter prod. by.Fox Beatz
4. Thank God
5. My Baby prod. by.Qhola Beatz
You can also follow him on Facebook @TIINI GH
https://www.facebook.com/rap.tiini.7
Instagram
https://www.instagram.com/invites/contact/?i=2wxqpkni5acm&utm_content=o38z1w1
Tiktok
https://www.tiktok.com/@tiini_gh?_t=8Xg88xCdBmH&_r=1
Audiomark
https://audiomack.com/tiini-/song/tini-gh-ft-raymond-burner-control-mixed-by-qholabeatz