Ghanaian Visual contemporary artist Moh Awudu has detailed his woes and defects about his business with Chale wote after he made a nice art for the Ghanaian black star player Mohammed Kudus for making Nima Community proud.
Moh Awudu focuses on the sensual nature of art, aiming to influence positive behaviours through the use of murals, graffiti and traditional paintings. His work often focuses on social issues such as child labour, education, child trafficking, sanitation, and teenage pregnancy. His work intends to give hope to those affected by these social cankers.
"I cried everyone knows am a hard guy, I cried because of the love and pain throughout my life as an artist, I love what I do since day one, I had a big heart for everyone, and I sacrifice my life for peoples vision, I was dead for 3 years I find myself back through art, I made a lot of good friends who supported me Emmanuel Bobbie Alhaji Haruna Rashid Ibrahim Marietta Brew Gizella Tetteh-Agbotui Adjie Sowah Rabiu Maude etc I sacrifice 10 years of my life for Chale wotey festival just want to see the development of art scene in Ghana. Later I was betrayed. Some people who came to the space that was made by my sweat wanted to see me dead and tarnish my image, even one person telling me they make sure I will stop doing art, wasn't easy for me for some years. But I thank Allah for the protection. The love I got yesterday just elevated my spirit am more than inspire now to contribute to the nation .. Allah will judge us with everything he blesses with, power, money, and knowledge. I do things for the loving aid of God, humanity and community and country"
Moh has participated in over 100 successful exhibitions and festivals around the world. He received several awards such as the 2014 Sabolai Radio Art competition, the 2016 Creative Arts Personality at the Nima Excellence Awards, and the 2019 Guba Awards USA. Moh also dedicates his time to teaching and mentoring kids from deprived communities through art in Ghana.
Photos: Moh Awudu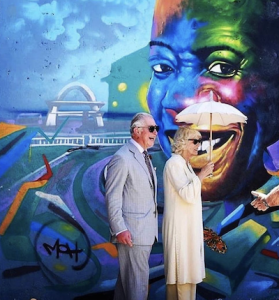 The Ghanaian artist, Moh Awudu recently honoured Black Stars midfielder, Mohammed Kudus with a giant mural in the heart of Nima.
This comes following the 22-year-old's marvellous performance at the Ghana Vs South Korea game in their second Group H match at the 2022 FIFA World Cup in Qatar on Monday, November 28. The mural, which has been painted on a wide wall in the Nima community, where Kudus hails from, is a celebration of breaking the stereotype of the community.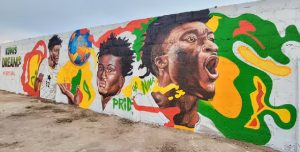 In an interview with Class FM, Moh Awudu stated that he was proud of Kudus for making the community proud.
"This World Cup, one inspirational person is Mohammed Kudus, and he's from Nima," Moh proudly noted standing against the mural in a Ghana jersey.
"When you say someone is from Nima [there is] a lot of negative narratives around us, so for me, I did this mural to inspire the young kids out here," he stretched his arms to draw attention to the mural's audience, "to know that with discipline, and when you move out of your comfort zone, trust me, you'll achieve a lot in life."
Mr Awudu observes that Kudus is the embodiment of the aforementioned principles and that accounts for his success thus far.
"Kudus Mohammed has been somebody who has been so disciplined, and he has moved out of his comfort zone, so he is [now] where he is, making everybody proud," he noted, adding, "We need to celebrate him, we need to celebrate each other" for inspiration.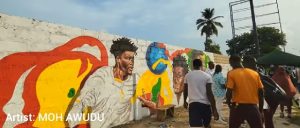 He sent out a message to the forward who is fast making a name in Qatar.
"He should just be himself [and] know that a lot of people support him," visual artist Moh Awudu encouraged and asked Kudus to remember the spirit of his town on the field: "He needs to play his heart out, you know the way we do things in Nima; we do things with passion, he needs to do [just] that."
Awudu, with his baseball cap, turned backwards, saved a few words for Kudus' mates on the Ghana Black Stars team also.
"Good luck to all the guys out there who are playing for the Black Stars [including] the coach and the Ghana Football Association, who are doing a marvellous job," he said.
"When they come home, I promise, we'll do a bigger mural for all 26 players," he pledged.
Kudus Mohammed scored two of Ghana's three goals against South Korea at the Education Stadium on Monday.
On Friday, December 2, his Otto Addo-led side will go up against arch-rivals Uruguay.
Kudus' Nima mural is christened 'Possible' and bears the words: 'Pride of Nima'.