Ghanaian Singer and rapper, Tiini has released his first song "Control" featuring all-time Ghanaian Twi Pop Rapper, Dr Cryme and Raymond Burner off his heavyweight EP "I Have Arrived "which has got people talking about it.
Tiini is a Rolex Vision Records signee who is yet to outdoor his first EP with a super duper concert on the 10th of December in his home town Kwahu Obomeng in the eastern region of ghana to show how far he has come and also give back to the society he emerges from.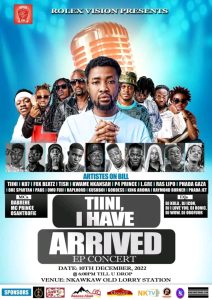 Enjoy the song here.