As solidified as he is, "Kwaku The Black Sheep No Dey Give Up No Way" said in his song (Konogo Zongo) on his Album "The Villain I Never Was".
On Wednesday, 21 December, Ghana's young superstar, Black Sherif delivered an outstanding performance at his first ever solo December in Ghana concert dubbed "Mozama Disco" (The Genesis) at the La Palm Royal Beach Hotel.
Black Sherif and his team gave concertgoers an all-around experience; the night started out with a meet and greet with his fans, where he met with, interacted and signed some merchandise for his fans and later proceeded to the big stage for his performance.
The concert grounds, powered by UPPFEST, were designed to bring comfort and ease to concertgoers. The VIP area featured sitting areas, cabanas, and mini pool sides, designed to provide luxury to those who paid for the service.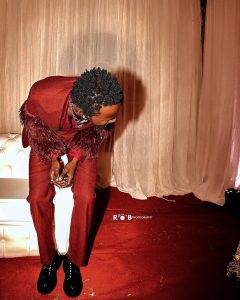 The night started out with performances by Larusso, Djay, and Cina Soul before the man of the night took the main stage.
For Blacko's first act at exactly 10: 20 pm, he was accompanied by a live band. The 'Konongo Zongo boy' came on a stage adorned in a classic bright red suit with ruffle feathered sleeves and kicked off the show with a beautiful rendition of his "Homeless" song off his "The Villain I Never Was" album.
Blacko's appearance on stage got his fans super excited, and they sang word for word when "Soja" came on.
Blacko's first act ended, and fans would get amazing surprise performances by Wendy Shay who brought her sexy, the Dope Nation twins who kept patrons dancing, and Fameye who blessed patrons with amazing vocals.
Soon, the man of the hour came back on stage for the second act, wearing a beautiful blue ensemble and kicked it off with a beautiful soul-filling performance of "Toxic City."
He got fans screaming when he performed "Oh Paradise," a fan favourite from "The Villain I Never Was" album.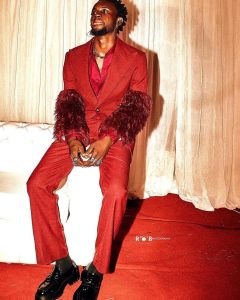 The second act was a little engaging, as Blacko tested his hardcore fans with his old music before he became an international sensation.
The intermission for the second act was accompanied by a performance by the songbird Gyakie, who thrilled fans with her beautiful voice and dance moves, and the sugar daddy himself, KiDi.
Blacko returned on stage for the third act, adorned in a pink mesh top and pants accompanied by some super fly sunglasses.
The third act was nothing short of amazing, as he pulled out the landlord himself, Sarkodie for an energizing performance of "Country Side" and brought Darkoo on stage for "Always."
A surprise appearance by the Asakaa boys left fans in awe, as they performed hit after hit, bringing the "Kumerica" vibes.
Blacko would test his fans with Capella sessions of "45", and they did not disappoint as they sang word for word from beginning to end.
The connection between Blacko and his fans is enviable, and one any artiste looks forward to, and it was evident at the Mozama Disco concert.
At exactly 1:45 am, the curtains were closed on what would arguably be one of the best shows in the history of concerts in Ghana.
Black Sherif left fans wanting more, as they chanted his name while leaving the concert grounds.
For a young act who is barely three years in the game, Black Sherif has solidified his position in the Ghanaian music industry.
We can't wait for "Mozama Disco" 2023.
Watch the full performance below.