Ghanaian songstress and "16yrs" hitmaker Mzbel, has taken to social media to acknowledge and also apologise to her die-hard fans for disappointing them by not giving them the real taste of her stage performance for the past few years after his hit songs.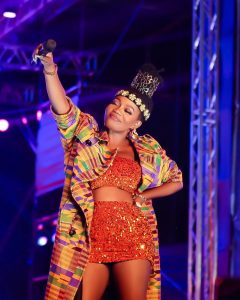 According to her, the sound playing to her on the stage wasn't clear and she could not even see the crowd due to the light that was thrown at her so all these combined made her lose focus and went off track making it difficult for her fans to catch the vibes she was riding on.
MzBel's 'wouuuuu' and 'adjeiiii' at #Afrochella🇬🇭❤️

One of the baddest to ever do it☺️#PulseEvents #afrochella2022 #Afrochella22 pic.twitter.com/gYTLtG1kdD

— Pulse Ghana (@PulseGhana) December 30, 2022
She wrote.
To all Mzbelievers who are disappointed in my performance at the just ended Afrochella 2022, I am terribly sorry and I'm disappointed too cos this is not how we prepared to entertain u.

What happened was I couldn't hear myself and couldn't hear my music on stage that's why I kept on shouting and trying my best to have fun somehow but it all ended up trashy. Also the lights hitting the stage was just too strong for my fragile eyes so I couldn't even see the crowd to interact properly.

Without any rehearsals and dancers I made u proud at Ghana Music Awards 2021 but unfortunately the media houses and bloggers trashing me today didn't share it like they sharing this particular performance but hey I promise to make it up to u soon. There's a bigger gig in the pipeline and if arrangements work out well I will make u proud again
https://twitter.com/GoddessMzbel/status/1608803203285647366?s=20&t=G2thJBpMp8Z2vBfjgSLe8g
Mzbel so loyal to her fans promises them a better thrilling performance next as she informs them of a bigger gig in the pipeline ready to explore.