Africa's self-acclaimed Dancehall king Shatta Wale has asserted that Ghana's music industry is inferior to Nigeria's
He claimed Ghanaians are just talkers and not doers.
Shatta Wale said these on Twitter in his typical comical, controversial and pointed way, Wednesday, January 18, 2023.
"[It's] better we stop arguing with Nigerian fans, promoters, etc., and ask for help," he said.
"[I even] need [a] record label," the musician who identifies as Ghana's richest confessed. "Ghana music [industry] is a disgrace. Mek [don't let] nobody lie [to] you…"
He bigged up "Naija [Nigeria]," and charged that Ghanaians are only talkers "with no action. Yes, I have said it…"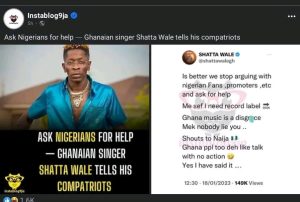 In the afternoon, the Johnny Just Come (JJC) hitmaker tweeted a follow-up saying he is only speaking the uncomfortable truths this year. He stressed his need for a record label's assistance and decried pride.
This year 2023 hard truth nkwaaaa [only]," he said with rolling on the floor laughing emojis. "You need help. I need help. Stop that ego life. Enogo [it won't] help you and me…"
Since his 2004 'Bandana' hit, Bandana who rebranded to Shatta Wale in 2013 with the release of 'Dancehall King', has predominantly been an independent Ghanaian artiste.