According to Stonebwoy, who made his first appearance on the Breakfast Club in the United States, although it is generally accepted that the population of Ghana and Nigeria are a factor, he believes Nigerian artists' tenacity, aggressiveness and positive mindset is a major factor to their success.
"Truth be told, I've been discussing this with my Nigerian brothers. We've been trying to crack this but we all believe that the numbers factor is part of it and then that not been the number one for me, I admire my brothers for their tenacity, aggressiveness and also their mindset," Stonebwoy told host Charlamagne Tha God on the Breakfast Club.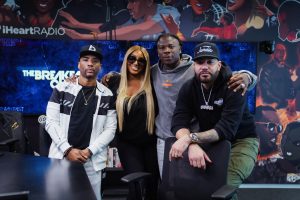 The "Gidiba" hitmaker however, stated that although the Nigerians may be in the lead, the Ghanaian artistes are also playing their individual roles towards the success of African music.
"And the beautiful thing is that we all tap into that because these are our brothers no matter how you want to put borders around it we are one people so its al of us in the end. We play our role, and they play their role as well," he stated.
Stonebwoy added that "interestingly, every of their top-lister, find inspiration in Ghana. Burna says it often, Wizkid literally lives in Ghana, Davido is like a brother that's 24/7 we're together. We're all playing our individual roles together out there we cannot all be in the front seat."
Watch the full video below.