Mr Daniel Obeng Fianko popularly known as Cedis, a Ghanaian artist and event manager has shared what's called worse challenges the music industry is facing in an interview with Dj Ashmen on Native Television.
According to him, the system has produce a lot of lazy but unique talents, apart from them being lazy they also lack the effort to work on their voice which has become a sceptical challenges for them to even do a live performance.
He said they're still good artists who can write good songs but potentially lack how to deliver. "it becomes so disappointing when you see an artist who can write better songs but the moment they begin to deliver to you in reality then it becomes a problem but I'm very happy now some of the boys are doing live band going for rehearsals and they have come to understand getting it right to yourself.
Watch the full interview here below
He has been in the Ghanaian entertainment industry for more than a DECADE and has been actively involved in the organization of many Major entertainment events across the country and Managing of various music artistes through the years.
Currently managing award winning and BET nominee D-BLACK of BLACK AVENUE MUZIK, he has been part of the success stories of RUFF N SMOOTH, GURU, DOBBLE etc, whilst managing them under EMPIRE RECORDS between the periods of 2010-2016.
Major hit songs released under his management during the entire period includes: Swagger, Sex machine, Azingele, Naija baby, Lapaz Toyota, Boys Abre, Nkwada kwada, Pooley, meba abetia wo, Samba, walahi Talahi, Ole Seke ni wo ye, GoodMood and many more.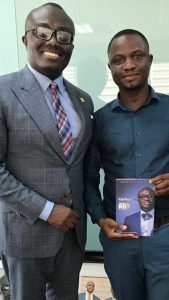 Experience as Production Assistant, Productions Manager and Music record label manager. And aside entertainment Cedis has worked as a Freight Forwarding Agent, (Tema Port) 2005 – 2006 and later branched into his dream field and had his first position in the Entertainment Industry as a PRODUCTION ASSIST. at BOLA RAY'S Empire Entertainment. For his commitment and hard work, He was promoted to become HEAD OF PRODUCTIONS 2009.
He was acknowledged by BOLA RAY in his book 'IT IS POSSIBLE 'for his role in the establishment of Empire Entertainment.
He became the first General Manager for EMPIRE RECORDS a subsidiary of EMPIRE ENTERTAINMENT between the years 2010 -2017.
Currently he is the GENERAL MANAGER of Black Avenue Muzik owned by Desmond Blackmore a.k.a DBlack, an award winning artiste and an entrepreneur.
Black Avenue Muzik was rescently awarded the Record label of the year at the GHANA-NAIJA Enertainment Awards held in Lagos,Nigeria this year 2018.
As an event consultant his rich experience in event's organizing is enourmouse,He has managed and executed various corporate and social activities which includes, MUSICAL CONCERTS,SEMINARS,PAGENTS,VARIOUS OUTDOOR EVENTS, GOVERNMENTAL PROJECTS, FESTIVALS,PARTIES,CAMPUS EVENTS, SPORTS EVENTS etc. Has been a pillar in the organization of GHANA MEETS NAIJA as head of productions since the maiden edition till 2016.