Reggae dancehall artiste Livingston Etse Setekla known for his musicianship as Stonebwoy has announced dates and cities for his 2023 tour.
The multiple award winning artiste is about releasing his next anticipating album in March.
The 6th time Vodafone Ghana Music Awards (VGMA) reggae dancehall artiste of the year wants to embark on this tour and release the much anticipated album during the tour.
The tour will be done in 12 different cities in America and Europe, specifically USA, UK and some selected cities in Europe.
The Journey of the tour starts on the 3rd of March in New York with the Ohio jamming on the 4th that's the following day and America will be wrapped up.
On the 9th of April, Bern will be burning with the performance of Stonebwoy with Hamburg going gaga on the 14th. Cologne will have their show on the 15th and Berlin wrapping it up for Germany on the 16th.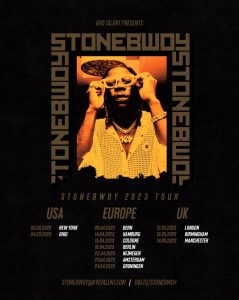 The fans and music lovers at Netherlands won't be left out Nijmegen being the first place to host the talented musician on the 22nd of March and the beautiful Amsterdam being beautified on the 23rd with Groningen having the last laugh in Netherlands on the 24th.
The United Kingdom will be the last stop for the one time Black Entertainment Television Awards (BET) best international artiste winner hoisting the flag of Ghana in London, Birmingham and Manchester on the 12th, 13th and 14th of May respectively.
Source: OKTRanking