Grammy Award-winning superstar Burna Boy will be sharing the same stage with other megastar at this year's Coachella 2023 Concert.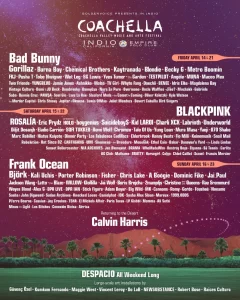 Burna Boy was included alongside other megastar performers who will appear at Coachella in 2023, according to a press announcement festival officials sent on Tuesday via their Instagram page.
On April 14 and 21, Burna Boy is slated to perform. However, Bad Bunny will be the event's headliner.
The breakthrough single "Last Last" from Burna Boy's sixth album, "Love, Damini," was one of the most well-known Afrobeats songs of 2022 due to its immense global success.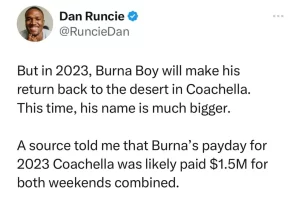 Remember how Burna Boy got upset when his name was written in a tiny font at his previous Coachella performance in 2019? This time, he is set to perform at this year's Coachella as one of the main attractions. A source claims Burna Boy will receive $1.5 million for his Coachella performance.
According to the source, Burna Boy will reportedly receive $1.5 million despite not being one of the main headliners. Dan Runcie praised Burna Boy for letting go of his headliner mentality and eventually succeeding financially.
Bad Bunny and Blackpin, two headliners on this year's Coachella schedule, release most of their songs in languages other than English.
Burna Boy will be smashing Wizkid's record by being paid $1.5 million. Recall that Wizkid revealed he received $1 million as payment for his 2022 Rolling Loud Toronto performance.