Veteran music executive, Kwame Mickey has advised gospel musicians not to follow the trend of releasing singles.
"Gospel music should be a whole album for the Christian to enjoy fully, not singles, hmmmm!!, he wrote in a Facebook post.
Responding a social media post by DJ Ashmen, Kwame expressed dissatisfaction at the content and style of Ghanaian gospel music.
"The style of gospel music they compose nowadays and the line of the message can't be enjoyed and bang in the clubs like it used to be, since they are not learning from their predecessors like Bishop Michael Osei Bonsu, Seth Frimpong, Osuani Afrifa, and many others who lifted Ghanaian Gospel to the top," he noted.
"Gospel music should be something that people have to run to the shops and music vendors to patronize, despite the current situation of only online sales," he added.
According to him, in a country that has a lot of Christians, gospel musicians should be earning more from their songs.
Adducing as reason gospel music in Ghana is seemingly not gaining a lot of mileage, Kwame Mickey said "it's because of the lack of proper messages like the olden days' gospel, and the worst of it all is the singles they release, how?"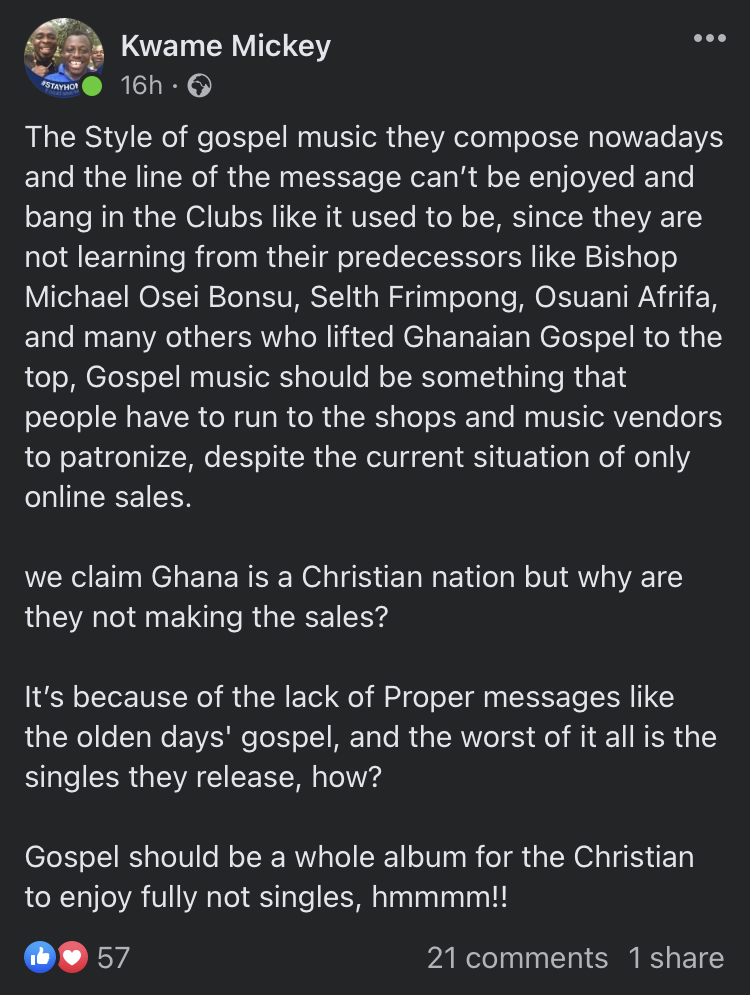 The music executive's comment comes on the back of DJ Ashmen's Facebook post which sought to find how gospel music faring in Ghana.
"Is Ghanaian Gospel music still bankable? Are they setting trends like how the late Seth Frimpong n co even got NIGHT CLUBS banging their tunes back in the day? Do their followers know about streaming it on DSPs?" he asked.
About Kwame Mickey
Kwame Mickey has worked with over 40 artists on about 75 albums. He has produced some of Ghana's biggest hits including 'Krokro Me' by Amakye Dede, Osuani Afrifa's 'Mensuro na Meka', among others.
Kwame Mickey also produced 12 albums with the late Reverend Osei Bonsu, 12 albums with his elder brother, Kaakyire Kwame Appiah. He also worked with Cecilia Marfo on her first album as well as Paa Solo, Uncle Ato, Paa Bobo, Hallelujah voices just to mention a few.
However, in 2012 Kwame Mickey took a break from music. He travelled to the USA where he sold and distributed CDs to African communities.
According to him, he made the move for his children to have a better chance at education.
Aside from music production, Kwame is into estate development and other businesses.
Married to Mrs Rita Mickey and blessed with five children; four boys and a girl. They are; Priscilla, Jeffrey, Caswell, Nhyira, Obrempong Appiah Mickey
Source : myjoyonline.com