One of the prestigious awards, the Ghana Entertainment Awards (GEA) ready to announce its anticipated 2023 edition of the annual awards, set to take place on July 1st at the prestigious Merkin Hall, Kauffman Music Center in the heart of New York City. This year's event promises to be a night to remember, celebrating the most hardworking entertainers in Ghana, Africa, and the Diaspora.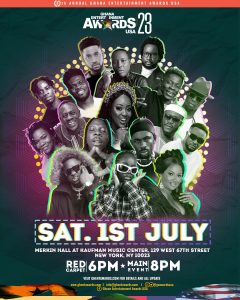 Now in its 5th year, the Ghana Entertainment Awards USA has established itself as a leading platform for recognizing and honouring exceptional talents within the entertainment industry. The award show serves as a testament to the remarkable achievements of individuals who have dedicated themselves to their craft and have made significant contributions to the Ghanaian and African entertainment scene.
Attendees can expect an unforgettable evening of glitz, glamour, and top-notch entertainment. The event will bring together the vibrant Ghanaian and African communities in the diaspora and some of the biggest entertainers from Ghana, creating a dynamic and inclusive atmosphere that celebrates the region's rich cultural heritage and artistic excellence.
The 2023 edition of the Ghana Entertainment Awards USA nominees have been carefully selected by a distinguished committee, ensuring that only the most deserving artists and entertainers are recognized across a wide range of categories. The nominees represent diverse talents, from music and film to comedy and fashion, showcasing Ghanaian and African entertainment's incredible depth and versatility.
Voting for the awards is now open, giving fans and supporters the opportunity to have their say in determining the winners. Fans can visit the official website at www.ghentawards.com to cast their votes and show support for their favourite entertainers.
As the countdown begins for this monumental event, the Ghana Entertainment Awards USA invites the public, media, and industry professionals to join them in celebrating the extraordinary achievements of Ghanaian and African entertainers. The night promises to be a captivating blend of music, dance, fashion, and unforgettable moments that will leave a lasting impression. The red-carpet experience is at 6 pm & the main event starts at 7 pm.
For more information, including ticket sales, sponsorship opportunities, and updates on the Ghana Entertainment Awards USA, please visit the official website at www.ghentawards.com. Stay connected and follow the event on Twitter & Instagram @GEAWARDSUSA and Ghana Entertainment Awards USA on Facebook for the latest news and exclusive behind-the-scenes content.