Minister for Information, Kojo Oppong Nkrumah has called on all judges to gather some fortitude and punish assailants of journalists in the country irrespective of their societal status and political affiliations.
According to the Minister who also doubles as the Member of parliament (MP) for Ofoase Ayirebi Constituency in the Eastern Region, said, it's urgently required to stop the brutality against journalists in this 21st century.
He made this statement at the opening ceremony of a training workshop for judges on the need to protect the freedom of expression and the safety of journalists in Ho on Monday, June 20, 2022.
He said, "The wheels of justice may be grind slowly, but My Lord Chief Justice, the feedback i have from my media colleagues is that we believe some quick punitive action targeted at the perpetrators of infringements against media practitioners will  be appreciated.
"It will be the strongest message to the next batch of state and non-state actors that that it is not acceptable to attack journalists no matter how much you disagree with that they say", the Minister said.
The program is created to deepen the capacity to of judges in dealing with with matters of freedom of expression and safety of journalists and reinforce their expertise in fighting abuses against and trial of those responsible for these attacks. The training comprises 25 judges from the high and Appeal Courts.
Present at the ceremony was the UNIESCO Country Representative, Mr. Abdourahmane Diallo, Representative of the chief Justice, Professor Dominic Dennis Adjei who is also a Justice of the Court of Appeal as the other well-known dignitaries.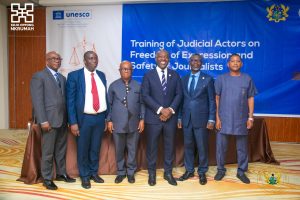 Mr. Diallo his part said the issue of freedom of expression and the safety of journalists is a very delicate area which demands the attention of duty-bearers, arbitration authorities, and the security service.