Gari and beans, well known as "Gorberh" or "yor ke gari" is a simple and popular meal made of beans and gari, just as the name suggests. It is mostly eaten for lunch. It is an affordable meal and also makes you feel full.
It has now become a normal essential food commodity that everybody can easily afford, be it the less privileged or the rich people. it's normally decorated with a little ripe plantain, peal, boiled or fried yaw, egg and fried fish which makes it more delicious and want to have more of it.
Due to their high protein and fibre content, they are recommended to be eaten regularly, at least 3-4 times a week. Aside from eating them with rice, bread, yam or plantain.
There are 5 special health benefits of eating gari and beans (Gorberh).
1. Energy
Much energy is provided to the body when one eats beans and gari popularly known as 'Gorberh' in Ghana.
Gari is rich in starch and operates as a basis of energy for the body.
2. Repairs body worn-out issues
Beans and eggs originate in 'Gorberh' and have a huge fraction of iron and protein. A protein according to scientific research assists to rebuild worn-out tissues in the body.
The beans in 'Gorberh' perennial help people who may be less liable to die of heart infection.
3. Reduction in bad cholesterol level
Bad bloodstream in the body network provides to heart diseases. Fatty food substances build up in the arteries and compel the heart to pump blood which may even direct to high blood pressure. The palm oil in 'Gorberh' may help reduce the terrible cholesterol in the bloodstream and arteries. This ensures the heart from disorders.
4. Vitamins
The vegetables eaten with 'Gorberh' particularly onions, spring onions, pear and carrots are prosperous in furnishing vitamins to the body. Vitamins enable the immune system to be robust which battles against diseases and other infections that may come into the body operation.
5. Promotes brain function
Consuming Gari and Beans 'Gorberh' assists the brain to act well. The soft plantain may alongside elicit Vitamin B6 also called pyridoxine, which creates various crucial neurotransmitters that carry data from one cell to another. This enables the brain to work well. If you don't eat gari and beans, you are missing so several health advantages.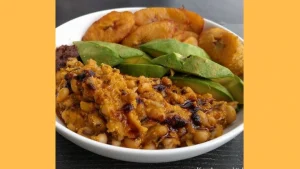 Djashmen.com spoke to some individuals at a gorberh food joint in Accra and this is what they have to say about the new essential Ghanaian food.
Steven said. " Oh me I take gorberh because it helps me to at least save some money and moreover it's very affordable too".
Evans:  " You know gorberh to be some food wey me if I take ah e fit sustain me for the whole day until evening comes so me ago talk my friends and everybody say to make them chop gorberh more time".
Eben: " I think gorberh which is made up of gari and beans with a little red oil on it has a lot to give to the body when you consume it and no doubt people really love it. Well for me according to small research I've conducted, it makes the brain function well or boosts up the brain to work faster and that's what I know.
You can also share your ideas with us by leaving a comment under the comment section below.