Who is Fireboy DML? Get to know the Nigerian musician singing his way up the charts.
Fireboy DML's contribution to the music industry quickly caught the eye of many music fans, including Nigeria rapper Olamide who eventually signed him to his YBNL Nation record label. The deal spawned  Fireboy's debut studio album Laughter, Tear and Goosebumps and earned the artist a nomination for "Song of the Year" at the 2022 sound city  MVP Awards Festival for his breakout hit single "Jealous". Following the release of his sophomore album Apollo, which rose to No. 14 on the Billboards World Albums chart, Fireboy only increased his fan base. So much so, that his efforts also earned him a nomination for "Best International Act" at the BET Awards 2022. so ahead of the ceremony hosted by actress Taraji P.Henson check out five things you should know about this year's nominee.
His stage name Fireboy DML is inspired by his real name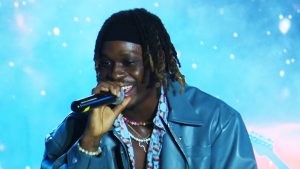 The "DML" portion of his stage name Fireboy DML is an acronym for his name Adedamola  Adefolahan. He shortened his first name Damola into DML.
He got his start in the church. The singer began showing his interest in music after learning English in school. Although he started as a rapper, Fireboy DML quickly found his passion for singing. He continued making music while attending Obafemi Awolowo University.
You can't box him into one genre. The singer-songwriter found success thanks to his unique sound that blends a mixture of Afropop, R&B, and soul, which could be heard in albums such as Laughter, Tears and Goosebumps, and Apollo.
He's signed to one of the most prominent musicians in Africa. After rising to prominence thanks to his 2018 breakout single "Jealous," the singer caught the attention of prominent Nigerian rapper Olamide Gbenga Adedeji who eventually signed him to his independent music label YBNL Nation.
His debut album was positively received. According to his Apple Music description, only three days after the release of his 2019 debut album, Laughter, Tears and Goosebumps, "garnered more than six million streams on a single music service." Meanwhile, his sophomore album Apollo rose to No. 14 on Billboards World Albums chart in 2022.