If Music is the food of the soul, then the musicians are the farmers who cultivate the food. Sometimes farmers have bad seasons whiles others are blessed with consistent bumper harvests.
The Trinity consists of Kokoveli, K.K. Fosu and Batman now Samini sometime came back together again after their split up years back. Many were those who thought these guys could never get together again.
They were the talk of the town when they got together as the Trinity and a show was never complete without these guys passing through.
Their stagecraft and neatly designed and their costumes were something extraordinary. After a while, all we heard of was a split and a sudden exchange of insults through their music; the three went to form new groups and went solo again. K.K. Fosu formed the D'Style Camp, Batman the Dankwansere and Kokoveli the Velli World records.
Kokoveli, the 'Zaa-za' man this time has managed to bring the group back again in his third album. Nathaniel Totimeh who has Kokoveli as his claim to fame is finally out again with his third album "Me mbre".
His first appearance in the music scene was when he managed to come out with the album that had the sizzling track "Zaa-za" and this was under Agiecoat music productions.
He came back with another album "African woman" in which he featured the Screw Face and then this track brought a heated debate and controversy between him and Amingo who alleged Kokoveli had stolen his music. He released that album under Lysarf music production.
To all those who claim he is not a musician, they should just listen to his new piece and draw their conclusion he added. The album already released in the States and enjoying massive airplay is yet to be released in Ghana and its neighbouring countries.
The album featured K.K Kabobo, Obour and A.B Crentsil, Castro, Screw Face and the Trinity (Samini and K.K Fosu).
People actually thought these 3 three iconic were untouchable until they eventually parted ways for some reason of which none of them ever came out to speak.
Having them billed on your show was never a mistake for any event organisers, they were never left out on any stage and they actually had a way of making their presents feel whenever they are in a mist of the crowd.
Trinity after their spilt still has the same political ambition career to pursue.
KK FOSU.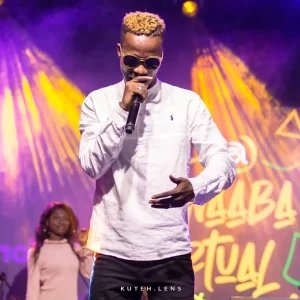 Kaakyire Kwame Fosu (born 14 February 1981) is a Ghanaian hiplife musician known by the stage name KK Fosu. He is known for songs like "Suudwe", and "Anadwo Yede" among others.
KK Fosu started music at a tender age with a junior school choir back in Secondary School.[3] He joined a live band group named "Soundz Unlimited" where he played for two years. He was later signed by DKB productions.
KK Fosu has released five albums titled "Sudwe", "Anadwo Yede", "6'oclock", Akonoba" and "Toffee". He has worked with musicians like Obrafour, Obour, Reggie Rockstone and several others. After releasing all these hit songs, Kk Fosu find it interesting to team up with kokoveli and Batman (Samini) to form a group called "Trinity" during that period they did a remix of kk Fosu's song "Sudwe" which brought a lot of attention on them but for some time everything vanished into a tin air without anybody knowing what and why they spilt out.
The 'Anadwo Yede' hitmaker in an interview on CTV revealed he would like to become the Member of Parliament for Akwapem North.
He said as a "freedom fighter", it is time to fight for the youth of the country, especially those in his constituency.
He stated that he has an agenda to push for more jobs in the agriculture sector to entice the youth.
The singer born, Kaakyire Kwame Fosu, said "I want us to build agriculture…when it happens, people won't rush for white-collar jobs."
KK Fosu noted that as he prepares for the race, he is considering running as an independent candidate.
He explained that he does not want to be tied down by one party. He added that he may also not get the opportunity to stand as MP should he join a party now.
K.K Fosu bemoaned the neglect of his town Mangoase by past MPs and governments who have failed to develop the town and provide jobs for the people.
He added that Mangoase is lagging behind in development; a situation he believes can be changed if he becomes a lawmaker for the Akuapem North constituency in the Eastern Region.
K.K Fosu was hopeful that he will be able to improve the livelihoods of his people and build schools when he becomes part of the legislative body where MPs are allocated the needed resources.
Speaking with Nana Akwasi Asare on Class FM's 'The Big show', K.K Fosu explained: "I want to go to Parliament and help my poor people in my village and those out there, I mean the youth especially. When people get to Parliament, they neglect their constituents. They don't help them at all, so we need to take the job into our hands now. The best way to build schools and roads is for me to go to Parliament".
The 'Sudwe' hitmaker said he is very much prepared to be part of Ghana's legislature, adding that he has been tutored on the parliamentary proceedings.
"K.K Fosu and his team are very prepared, I will take people by surprise, we are working underground, people should watch out," he said.
The highlife musician was of the view that agriculture is the backbone of the country's economy, stressing that when the mantle is given to him, he will build and bring back the love and life in the agricultural sector.
"I always want to advocate when it comes to agriculture. I want us to go back to agriculture, I want us to build and make agriculture attractive for the youth. When this happens no one will need to worry about going to Parliament," he said.
KK Fosu stated that the time was right to give back to the youth of Akuapem North by empowering and inspiring them to attain greater heights.
Even though the highlife artiste has not yet officially announced his plans to contest the 2024 parliamentary election, he believes he has the support of the majority of the people within the constituency who will surely vote for him.
SAMINI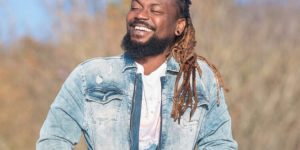 Samini has also Hints At Embarking On A Political Career.
He is a very renowned rapper, raga, singer, actor and entrepreneur. His genre of music is a sweet-sounding blend of dancehall, reggae, hiplife and hip hop but he terms his brand of music "African Dancehall". Samini's real name is Emmanuel Andrews Kwabena Amid Samini born on 22nd December 1981 to Mr G. Andrews Samini and Mrs Theresah Nusala Samini.
He hails from Wa in the Upper West Region. He had his basic education at Holy Family School and then furthered at St. Margaret's Mary Secondary School in Dansoman for his secondary education. Samini has lived in dansoman since he was 9 years and that was when he realized his singing potential in himself. At age 14, he was already a member of his church choir(catholic). He was so good at it and this made him everyone's darling boy. He also joined the entertainment committee during his secondary education. He became a professional musician after a musical collaboration in 1999. He started with the show business name; Batman which he explains as the short form of Best of All Time Man. This name became one of the commonest keywords on the lips of many music fans in Ghana and his songs were sung by almost every Ghanaian regardless of their position in society. He also won the admiration of most music critics in Ghana.
Samini had a whole "signature tune " to himself; "KPOOI". When asked what the meaning was, he said it was a gunshot wound and that was his signal. It came with every composition that he did and it was meant for all the back bitters 'we kill them dead". He once hosted the finals of the Nescafe African Revelations in Ghana which brought to limelight acts like the then group "Praye". He has also been the MC for the most prestigious event in the entertainment industry in Ghana known as Ghana Music Awards twice.
He signed his first record label deal with Ashanti International owned by Nana King. His studio sessions with Ashanti International Studios and Kwame 'G' in his neighbourhood; Dansoman paved the way for a full-time professional music career. He also worked with Roland popularly known as RO-RO of Best Brain Digital Studio In the year 2004, he was a part of the hiplife group known as Trinity which had KK Fosu and rapper Kokoveli as its other members. The group became famous for the hit song "zaaza".
However, they disbanded after a few appearances.
It can be vividly recalled that the "Linda" hitmaker debunked claims of aspiring for the political workplace after the 2020 General Elections after a flyer went viral together with his picture standing for a member of parliament within the subsequent parliamentary elections.
He was reportedly aspiring as a member of parliament for the Wa Central constituency however the musician got here out publicly to disclaim these claims.
Speaking in an interview on UTV on the United Showbiz with Empress Nana Ama Mcbrown, Samini hinted at embarking on a political profession and says he'll stand as MP when the time is true for him. However, he by no means made any specifics on the constituency he shall be standing for but it surely has already been presumed that he'll stand for both Wa and Dansoman.
The Dancehall Musician was recently elected as
the 2022/2023 President of the Students Representative Council (SRC) at GIMPA.
The legendary Dancehall musician who is currently reading Business Administration at GIMPA polled 307 votes to win the election against the 211 votes for his contender, Theophilus Quartey.
Theophilus Quartey is a level 300 student of Finance who enrolled at GIMPA in 2019.
Samini will now have Mabel Mensah as his Vice-president for GIMPA SRC.
Samini, revealed about two weeks ago in a Twitter post that he was going to contest for the position of the SRC President in the coming elections.
"I am contesting for the GIMPA SRC Presidency, I will be doing my vetting tomorrow and hopefully I will become the next SRC President of GIMPA," Samini revealed in a Twitter Space conversation.
The Musician had earlier told GTV on Friday, June 17 about his plans for the students should he get the nod.
"As an Artiste and Entertainer and what I am used to in terms of soliciting funds to support their projects. I know what I can do if I take charge and sacrifice myself or bring myself to serve and be part of how we can raise more, someone who is not that loud on social media space.
"I know everything has to do with funding, everything has to do with budget and sometimes, I see the budget that they claim would take for SRC Week to happen but it still hasn't, all because of budgetary constraint.
"I have put my ear on the ground and I have watched as well and I know that there are plenty of things that students need. But with the institution being a private one it can only run-on profit or loss. We would need benevolent Institution to come on board to support them", he said on GTV Breakfast Show.
One can clearly say that his dream of becoming a politician has overly started here now that he has been able to secure himself such a tremendous position as the newly elected President Representative Council (SRC) at GIMPA.
However, in a new interview, speaking with Kafui Dey on Metro TV, the 'Linda' hitmaker revealed that he's going back to school was inspired by hiplife legend Nathaniel Totimeh, better known as Kokoveli.
According to him, he had the aim of going back to school at age 40, but before he could see that he was 38, Kokoveli picked up GIMPA forms for him and they all applied, and they are all at level 300 now.
Kokoveli.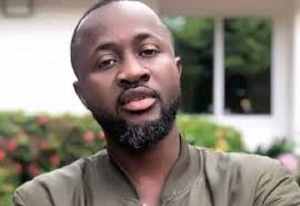 Nathaniel Totimeh aka Kokoveli was born to Prince Totimeh and Mavis Ofosu Appiah in Accra. He had his elementary education at Datus Complex, moved on to Morning Star, and later proceeded to Ridge Church School. He then had his secondary education at Mfantsipim Secondary School.
Kokovelli was once a student of Kwame Nkrumah University of Science and Technology.
While in school, around 1998, he used to perform at shows thus his friends encouraged him to go into music since they saw the best in him. The young gem who was in the same rap group as Obour and Abega was also blessed with dancing thus he represented his school anytime there was a dance competition.
His parents were initially not in support of him doing music but later on gave him the maximum support which led to the birth of his first self-produced album titled Zaaza which had tracks like Zaaza Remix, Alelekele and Odo Posie.
Later on, his manager by the name of Nat Kwabena Adisi (Bola Ray) secured a deal with Agiecoat Records by selling the album to Agiecoat. Kokovelli was given an hour on Ghana Television to teach the public the Zaaza dance on July 1, 2003, which landed him into being part of the Trinity clan which consisted of Kokovelli himself, Samini, and K.K Fosu.
Due to his remarkable performances and frenzy on dance floors, he was also invited to perform in London, Italy, U.S.A, and France where he captivated crowds with a strong stage presence and clever wordplay.
He was nominated for the New Artiste of the year, Best Collaboration song of the year, Artiste of the year, Hiplife song of the year, and Hiplife Artiste of the year at the Ghana Music Awards 2002.
In Italy, he picked up an award for being the Best Ghanaian artiste and won other awards such as New Artiste of the year, Hiplife song of the year, Song of the Year, and Hiplife album of the year. In 2007, the Trinity released a single that was meant to usher in their comeback but the comeback never happened.
Kokoveli also hints at venturing into politics after his spilt with KK Fosu, and Batman now Samini back in the days when they were topping charts everywhere. Kokoveli can be described as one of the best musicians that have ever happened to the Ghana Music Industry at large and no doubt about that.
We'll be here to find out if truly they are going to fulfil their political ambitions as they all dreamed of.
Meanwhile, Kokoveli going back to school was quite anonymous and few people didn't know about it until his colleague mate Samini come out to reveal how he (kokoveli) helped him also pick a form when he going to pick the form and filled even though his (Samini) intentions were to go back to school at the age of 40. It has been told that Samini and Kokoveli are all in the same University studying the same course as they all wanted and plan of in the near future to become politicians of their time.