Many people in the Ghanaian music industry have raised a lot of concern about Afrobeats documentaries that have been produced by Nigerians on both Netflix and Showmax including one of Nigeria's influential art writers, Joey Akan who have also established how the term came up in his Twitter handle, He wrote: "Fela Kuti's 'Afrobeats' was coined by a Ghanaian. Our generation's own 'Afrobeats' was coined by a Ghanaian."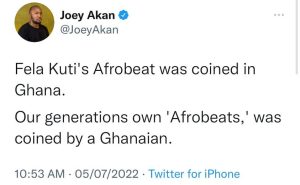 Even tho Ghana was mentioned in the documentary as a contributor to "Afrobeats (with the s), others think the story was not fully told in the documentaries. For example, the key adherence of  Afrobeats, DJ Abrantie was not mentioned in the documentary while Reggie Rockstone's entry into the Ghanaian music industry was not well dated, it was dated in the documentary 1999 instead of 1993.
Afrobeat in its original form is a music genre established by Nigerian superstar Fela Kuti in 1968. It is a blend of highlife, jazz, funk, American blues, and traditional Yoruba music. It is different from Afrobeat (with the s) which was the basis of the "Afrobeats: The Plotline documentary.
While Fela Afrobeat is a genre, the modern-day Afrobeats is a term that describes all African sounds. The term was first used by a Ghanaian DJ based in the United Kingdom called DJ Abrantie around 2010. It was later picked up by other African music executives and the media as a descriptive word for rhythms from the African continent. At present, music charts and awards across the world have slots for Afrobeats. More musicians from Nigeria, Ghana, and other African countries identify with this movement.
Joey Akan meant that Fela spent time in Ghana studying Ghana's highlife and culture and exploring more sounds to create an "identity" for his brand.
Source prove that in 1968, while in Ghana for the second time, Fela went for his new sound. In his biography titled 'Fela: This Bitch of a Life', he writes that one day while in a club in Accra, he thought about how to bring out something different other than what James Brown did.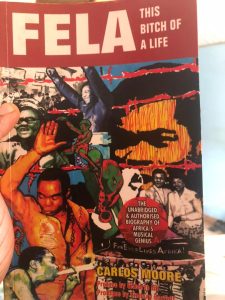 "I must clear myself from this mess. I must identify myself with Africa. Then I'll have an identity," he writes.
He added that there was a Ghanaian-Nigerian friend, called Raymond Aziz, sitting by him on that day at the club. He asked him: "Raymond, you see my music? I must give it a name oo, a real African name that is catchy. I've been looking for names to give it. And I've been thinking of calling it Afrobeat."
After Raymond endorsed the name, he flew with it.
This validates Joey Akan's tweet about the place of Ghana in the Afrobeat and Afrobeats story.
While at it, some Ghanaians have suggested that stories about Ghanaian music have not been told by Ghanaians. They believe Ghanaians need to invest in telling their stories from their perspective to the world.
Meanwhile, Nigerian music giant, Burna Boy, has said in a recent interview that he would rather want to be associated with Afro-fusion than Afrobeats.
There are some people, especially Ghanaians, who also share Burna Boy's opinion: such people believe that Ghana should have held on to its highlife, preserved and marketed it well to the world.
In the meantime, the United Nations Educational, Scientific and Cultural Organization (UNESCO) is considering making highlife and intangible heritage of Ghana.