Youth Arise Ghana presents its first-time edition of the "Oti Regional Youth Music Awards" ever happened in the Oti regional capital ever since the region was established.
The Youth Arise Project is basically designed to empower and promote the local talents in the region and also give them the platform and fortitude to showcase their talents to the world.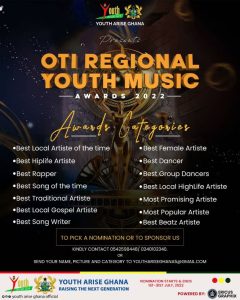 Speaking to the President of the "Youth Arise Ghana", H.E Owusu B. Robert in an interview with djashmen.com, He said, "We want to find a way of empowering and promoting the local talents we have, most of these guys are very good but lacks motivation and support. Youth Arise Ghana would be creating a record label with them and finding resources to promote some of these artists.
He further explains that the people in that area find it difficult to listen to music because of the kind of songs they produce, "Everybody likes to be entertained, quality songs are always loved to be played. Quality with good sounds is key that's why we would come in to support the winners through our record label to produce quality music.
This year's edition of the Oti regional Youth Music Awards has 14 awards categories and the categories are stated below.
*Best Local Artiste Of The Time                                   *Best Female Artiste
*Best Highlife Artiste                                                       *Best Dancer
*Best Rapper                                                                       *Best Group Dancers
*Best Song Of The Time                                                  *Best Local Highlife Artiste
*Best Traditional Artiste                                                *Most Promising Artiste                                            
*Best Local Gospel Artiste                                             *Most Popular Artiste
*Best Song Writer                                                             *Best Beatz Artiste
Nominations Start and end on 1st-30 July 2022.