Ghana Highlife Musician A.B. Crentsil died at 79. The news was announced by ace recording engineer, Fred Kyei Mensah (Fredyma) on Wednesday, July 13, 2022, in a Facebook post.
"FAREWELL AB CRENSTIL. The original composer and singer of the famous and controversial songs, 'Moses and Aba' AB Crenstil, has died! He had a stint with a lot of bands before joining the Sweet Talks Band with Smart Nkansah and then his own band, Ahenfo. His hit songs, 'Juliana and Obi ba wiase cannot be forgotten".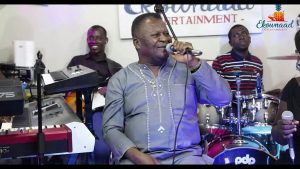 The cause of his death was unknown, but reports say he was ill for some time.
In an open interview with one of his right-hand men at a point in time in his career, Ghanaian Radio Presenter, Paa Kofi Abronomah on "CHAT WITH DJASHMEN ", when asked about how he heard about the death of his friend, He said, "It was early morning when one of my friends, yes actually I saw it on one of my friend's status and I called and he said he thought I knew about it and I said no I'm not aware so I started making calls until it was confirmed to me that he's really gone. Honestly, I knew things were not too well".
" I will say A.B. Crentsil was the greatest Highlife musician Ghana has ever had in the history of music, growing up as a young man listening to his music, getting to know him personally and then encountering him, appreciating his songs and also acting as his right-hand man at a point in time along the line when he has a show I will go with him. The first song that led to our friendship was a song he recorded with the Medical Lantis that was back in Takoradi, actually, he started his music career in Tarkwah".
'For me, he is one of the best, I had the privilege to learn under S.K Mann's band, I had the privilege to learn under Papa Yankson, so for Uncle A.B it came naturally to me, he was open to me and you know during the last album of S.K Mann he invited Uncle A.B and he saw me at Takoradi. I have always been with them the big boys (The Big Six), A.B was such a nice person to me. And today you know when I went to the house his wife was like "Oh wo papa ko wa kra me oo" and the children to was who is this and told them I'm one of their father's son and I told them that I'm more than a son to him, you that kind of thing, and I think we broke the news too early, we didn't try at all some of his children make it from social media and that was very bad. Somebody had left there like 2:30 and had come to sleep a little and to find out their Dad is no more was heartbreaking. When asked who he thinks broke the news first, he said, the first person who broke the news first was fredyma and so most of the media houses quoted him so apparently if I will people who broke the news it could be him.
Comparing today's highlife and the olden days of highlife, you know dose days they were recording it live. This thing I wish you could talk to Mr Kwachy who recorded most of their songs and they were playing live, you will take everybody to the studio, your drama, your playing guitar most of them, led, rhythm and base, you take your organ even some of them who were playing big band try to play through the organ and you take your hornsmen and backing vocalist, everything does rehearsals, we start when you make mistake we start over again no cut and paste. So now things have changed that is why sometimes now it is their time it is the generation. now, these people also change, if you listen to the first highlife music recorded by the Fante Trio in 1923 if you listen to them their type of music, what they recorded they join the Stima, you know dose times we had the ships if you want to go to the UK  you go with the ships. and it was a stima. So they were actually in the Stima and they went to the UK  to record it, that was the Fante Trio. now if you compare their music coming the person who made Highlife popular is Kwaw Mensah he was from Cape Coast.
The musician known for several hits songs such as Devil, Atia, Juliana, I Go Pay You Tomorrow, Papa Shamo, and Ayen among other songs died at The Bank Hospital, Accra on Wednesday, July 13, 2022.
A.B.Crentsil, born in 1943, in Prestea in the Western Region was one of the "big three" contemporary Ghanaian musicians from the West.
He won numerous Ghanaian music awards, including the Fontomfrom Evergreen Award, a special honour bestowed upon a musician with 15–20 years of continuous music experience.
He had his primary and middle school education was the Takoradi Methodist Primary and Rev Cleveland Middle School respectively.
After his middle-school examinations, A.B.Crentsil worked as an electrical apprentice under his father, who was the Works Superintendent of the technical branch of Ghana Railways at Takoradi.
While in middle school, A.B.Crentsil was introduced to the guitar by a Mr Thedoh. A.B.Crentsil became proficient in playing the guitar and started singing along when playing it.
He was simultaneously working as an electrician and playing with the Strollers Band owned by one Kwesi Donkor.
A.B.Crentsil has played with bands such as El Dorados, Sweet Talks and his own band, Ahenfo.
Though a Highlife legend, A.B.Crenstil never shied away from collaborating with the younger folks to produce beautiful remixes of his old songs.
One such collaboration was with former MUSIGA president and current MD of Ghana Post, Bice Osei Kuffour popularly known as Obour when they worked together on the Best of the Lifes album.
Tributes have been pouring in for the legend following the news. With many regard him as one of the greatest Ghanaian musicians.
which latter group in the 1970s, under the joint leadership of Crentsil and Smart Nkansah, were the resident band at The Talk Of The Town Hotel in Tema, with Crentsil as a lead singer and then finally the Ahenfo Band.
Crentsil opened a 16-track recording studio in 1990."Devil" is among his best-known songs.
Crentsil continued to release new albums and won the accolades that are awarded to top musicians in Ghana. As he always said: "When burger highlife came and everybody loved it, we all joined the train because we also wanted to make some money, but one that I realized is that, highlife will always be the original form of music for Ghanaians and we will always come back to it".