Last week, on July 7, the former file-sharing client announced it will be returning in an all-new form, different from its origins as illegal music downloading hotbed. In the video promotion, two kids are shown leaving school and excitedly rushing home to download Soulja Boy's 2007 hit "Crank Dat (Soulja Boy)," which scores the commercial. The video then cuts to the two kids as adults. In a similar situation, they rush home to get on LimeWire. Only this time, they are going on the site to check on an NFT purchase.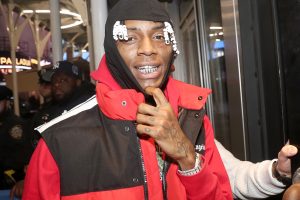 The commercial closes with the message, "LimeWire is back. Your place for music NFTs."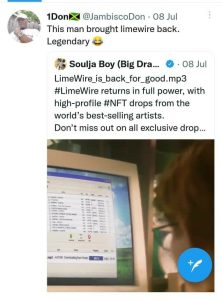 Following its initial announcement revealing its return, former file-sharing client, LimeWire is now set to relaunch as an NFT marketplace. Referencing its place as a piece of illegal music and movie downloading hub, LimeWire released a commercial outlining its transition.
Back in 2010, LimeWire lost a four-year copyright infringement battle against the Recording Industry Association of America and remained a nostalgic relic of the Internet's past until now. Earlier this year, brothers Julian and Paul Zehetmayr acquired the naming rights for the service to relaunch as a "mainstream-ready, digital collectables marketplace for art and entertainment, initially focusing on music."
The LimeWire NFT marketplace is set to simplify things for those new to NFTs, offering easy signup and direct credit card payment via Wyre's payment platform using USD pricing. LimeWire aims to partner with top musicians and register a million buyers by the end of the first year.
The commercial for the relaunch shows two kids running home from school to download Soulja Boy's "Crank Dat (Soulja Boy)" on LimeWire. Fast-forwarding to the future, the kids, now adults, rush home after work to get on LimeWire to now buy an NFT. The commercial closes with, "LimeWire is back. Your place for music NFTs."
Catch the commercial for relaunch below and head over to LimeWire's website to tap into the exclusive drops set to come.
LimeWire hopes to turn itself into the "one-stop marketplace for artists and fans alike to create, buy and trade digital collectables without the technical crypto requirements of the current NFT landscape." Ultimately, housing "music-related assets" such as limited-edition releases, unreleased demos, exclusive live versions, digital merch, and more, which fans can buy, sell, and trade.
Statements from co-CEOs Julian and Paul Zehetmayr can be read to further explain the re-brand below.
"The biggest challenge with digital collectables and the broader crypto market, in general, is that it's really limited to a small group of savvy users. There are big players on the market already, but the entry barrier is still too big to allow for mainstream adoption. Most music fans do not own any cryptocurrency or have access to a crypto wallet, let alone understand the mechanics of collectables on the blockchain. We want to remove all those obstacles and make it easy for people to participate, while at the same time offering an exciting platform for crypto natives," said Paul.
"In an increasingly difficult industry with streaming taking over and ownership taking a back seat, we are working to give artists full flexibility and control when it comes to their content. LimeWire will not be an alternative to streaming platforms, but rather an additional channel for artists to sell exclusive music and art directly to collectors and to engage with their most loyal community of fans," said Julian.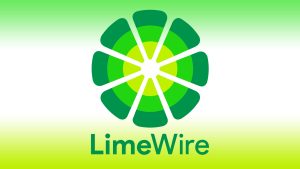 LimeWire is a peer-to-peer (P2P) file-sharing program used to share and distribute content on the Web. LimeWire enables users to access or share any file type, such as AVI/MPEG (video), MP3 (music), JPG (images), etc.
LimeWire Basic is free to use, while LimeWire Pro is a paid version that promises faster peer-to-peer and downloading speeds. LimeWire runs on Windows, MAC OS X, Linux and other operating systems supported by the Java software platform. LimeWire uses the Gnutella network and BitTorrent protocol.
LimeWire allows individual users on the Internet to make music, videos and other files available for direct access by other users. It also allows users to search for desired content on other users' computers and download those files.
Limewire does not use any centralized server to store files; instead, it directly transfers files from one user's (peer) hard disk to that of another user. This is the reason why the term "peer-to-peer" is applicable to Limewire sharing.
LimeWire is written in Java programming language and runs on any computer with a Java virtual machine installed. LimeWire version 4.8 or later works as a universal plug-and-play (UPnP) Internet gateway device controller, which automatically sets up packet-forwarding rules with UPnP-capable routers. Users share a library through Digital Audio Access Protocol.