Nigerian music star, Tiwa Savage, has been honoured with a doctorate from her alma mater, the University of Kent. Tiwa completed a degree in Business Administration at the University of Kent before winning a scholarship to study Professional Music at the Berklee College of Music, Boston, Massachusetts, U.S.
The University of Kent says the singer is one of ten inspirational individuals who are lucky to be awarded honorary degrees during its congregation ceremonies at Canterbury and Rochester cathedrals.
Tiwa Savage gave a very touching speech when called upon receiving her awards. She said, 'I failed in a lot of things actually, I was bullied at school severally when I moved to the UK, I run away from home a few times, I was suspended from school, I have been globally reciting a couple of times am not gonna say what it is but it runs with keeps the irony and I have also failed principles of finance that is the very university when I was graduating, this same girl went to be the leading figure in a global phenomenon called Afrobeats and people call me queen'.
The July honorary graduands are:
• Kent alumna Tiwa Savage, who was made Doctor of Music in recognition of her inspirational and international career in music
• Kent alumnus and Emeritus Professor Abdulrazak Gurnah, who was made a Doctor of Letters for his distinguished contribution to literature and his reflections and portrayal of the effects of colonialism, the theme of the refugee's disruption, and the human experiences of a cross-continental journey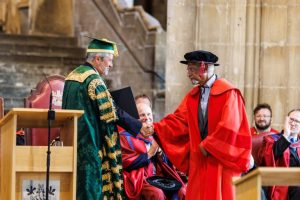 • Susan Wanless, who was made Doctor of Music in recognition of her significant contribution to music and for services to the wider University as both Director of Music and Master of Eliot College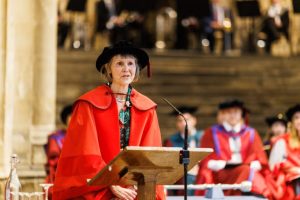 • Dr Howard Leicester, who was made Doctor of Science for his significant contribution and distinguished service to the enhancement and provision of accessible information, most notably in the area of the NHS, and for helping ensure a socially just and inclusive society
• Professor Kevin Hylton, who was made Doctor of Science in recognition of his significant contribution to the study of race, equality and diversity in sport and education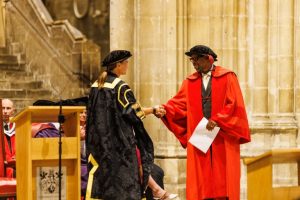 • Mark Lane, who was made Doctor of the University in recognition of his inspirational career in garden design and media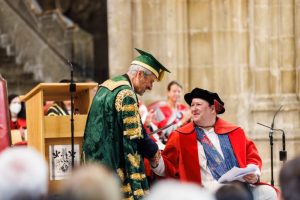 • Mark Thomas, who was made Doctor of Arts for his unique contribution to British comedy and politics (Canterbury 14 July)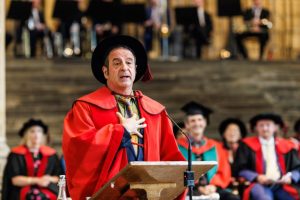 • Dame Stephanie Shirley CH, who was made Doctor of the University in recognition of her exceptional contribution to business and philanthropy
• Olufunke Abimbola MBE, who was made Doctor of Laws for her inspirational career as a senior solicitor and her extensive voluntary work as a mentor and campaigner