EIB Network Ghana has appointed the former Managing Director of Multi TV at The Multimedia Group, Mr Santokh Singh Ram Singh as its Chief Operating Officer. Santokh Singh brings with him a plethora of worldwide expertise and a track record of success in media and communication. He spent 8 of his 25 years in Ghana, where he led successful business development strategies.
He previously served as the CEO of TV3 Networks Ghana Limited (2010-2012) and Managing Director of Television, The Multimedia Group Ghana Limited (2014-2019).
Announcing his appointment on social media, GhOne TV host, Francis Abban wrote: "Welcome, Santokh Singh. Our new COO"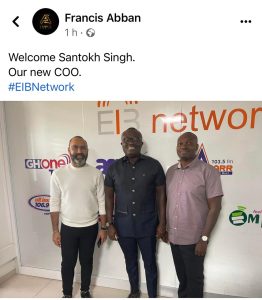 Throughout his stay in Ghana, he has developed strong brands and successfully turned around the businesses of both companies in a short amount of time.
Mr Ram Singh will be in charge of the entire group's operations, with a particular focus on turning around their media business, as well as re-strategizing other EIB business units and potentially developing new opportunities, particularly in the digital space.