Ghanaian singer, King Promise has stated that he is an expensive brand and needs to look the part. In a recent interview with Delay on the Delay Show, the  "Slow Down" hitmaker gave a breakdown of the cost of the clothes and jewellery he was wearing on the show.
According to King Promise, his customised necklace cost a little more than $10,000, his watch cost almost $30,000, and his diamond earrings, a $2000, totalling about $50,000.
Delay, who was shocked at the amount of money King Promise was spending on clothes and jewellery alone asked if he had any plans of buying a house soon, to which he replied;
"I'm already working on stuff…I'm building a house."
Delay further asked; "Can't the $50, 000 add up to finish your house?" to which King Promise replied; "No, you should see the house I'm building."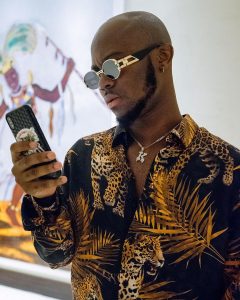 He continued; "(Pointing at his jewellery), for these, we spend money to get money, because when you see me and I pull up in a Range Rover, you know you can't mention some price to me. Out of respect, for how I carry myself and my brand; I'm an expensive brand. I'm not bragging; I'm just saying…"
Delay explained that her question was coming from comments she had read online about people stating that King Promise would wear expensive clothes and later beg for money from the public in the future when his career is no longer flourishing.
King Promise responded stating that he's not spending all his money on clothes and jewellery alone and has a plan for his future.
"I'm a very optimistic person. I know where I come from, I use my head when I'm doing anything. If I didn't have much in my account to buy these things, I wouldn't do it. I won't spend all my savings to impress people I might not know who is just on the internet. At the end of the day, I have a family to feed, I have a career to build, I have a future to build as well…at the end of the day, whatever I do is towards my brand."
Watch the full interview below;